FAQ - Frequently asked questions
How to drive by public transport to Cologne?
In which language will the congress be held?
Our speaker come from all over the globe, so it will be held in English.
Where is the location?
It will take place at German Sport University Cologne.
Click the link above for travel details.

Full address:
Sporthochschule Köln, Hörsaal 1, Am Sportpark Muengersdorf 6, 50933 Cologne

Parking:
We have parking lots available. If you arrive by car, follow the yellow line.

Public transfer:
If you arrive by public transfer, follow the pink line.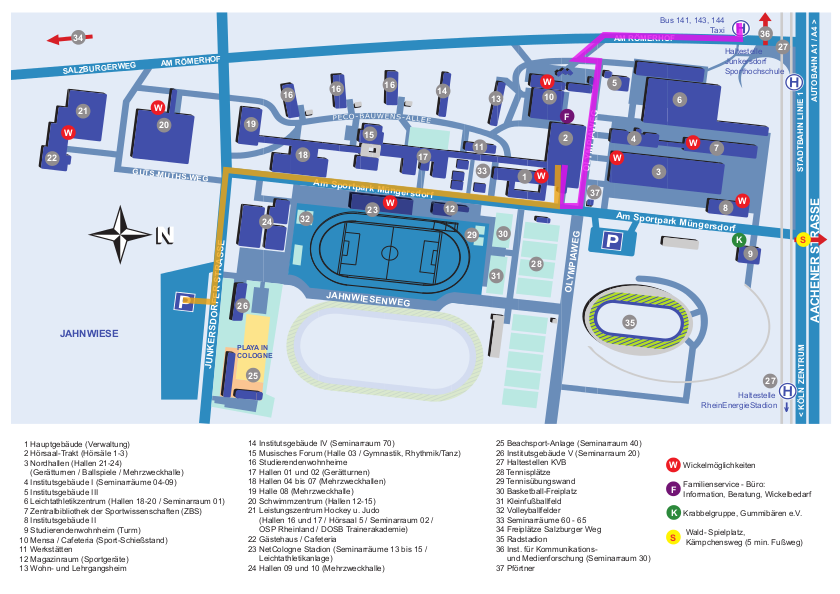 What are E-Posters?
The E-Poster format can be accessed at any time during the Congress, using wide screen TV's located in the general poster area. Therefore, there is no formal presentation time, and no formalized discussion time. If discussion is required, presenters will be contacted directly (by email) by interested parties.Abstracts accepted in this format will be published in the book of abstracts of the Sports Science & Fitness Congress 2017.
What are Mini-Orals?
The presentation time is 7.5 minutes 2.5 minutes questions and answers.
What are Oral-Presentations?
Oral presentation time is 20 minutes plus 10 minutes of discussion.
What are Print-Posters?
Those posters are printed in a large format and will be presented on a stand. We will provide accepted size shortly.
Where can I sleep?
We have listed some nearby options for your staying Cologne: Accomodations