Timetable
To get your ticket or check in, please come to Lecure Hall 1!
On Friday the sessions start in Lecture Hall 5 and after 16:00 it continues in Lecture Hall 1.
Please have a look at the room numbers listed on each topic! Ask our local guides to help you.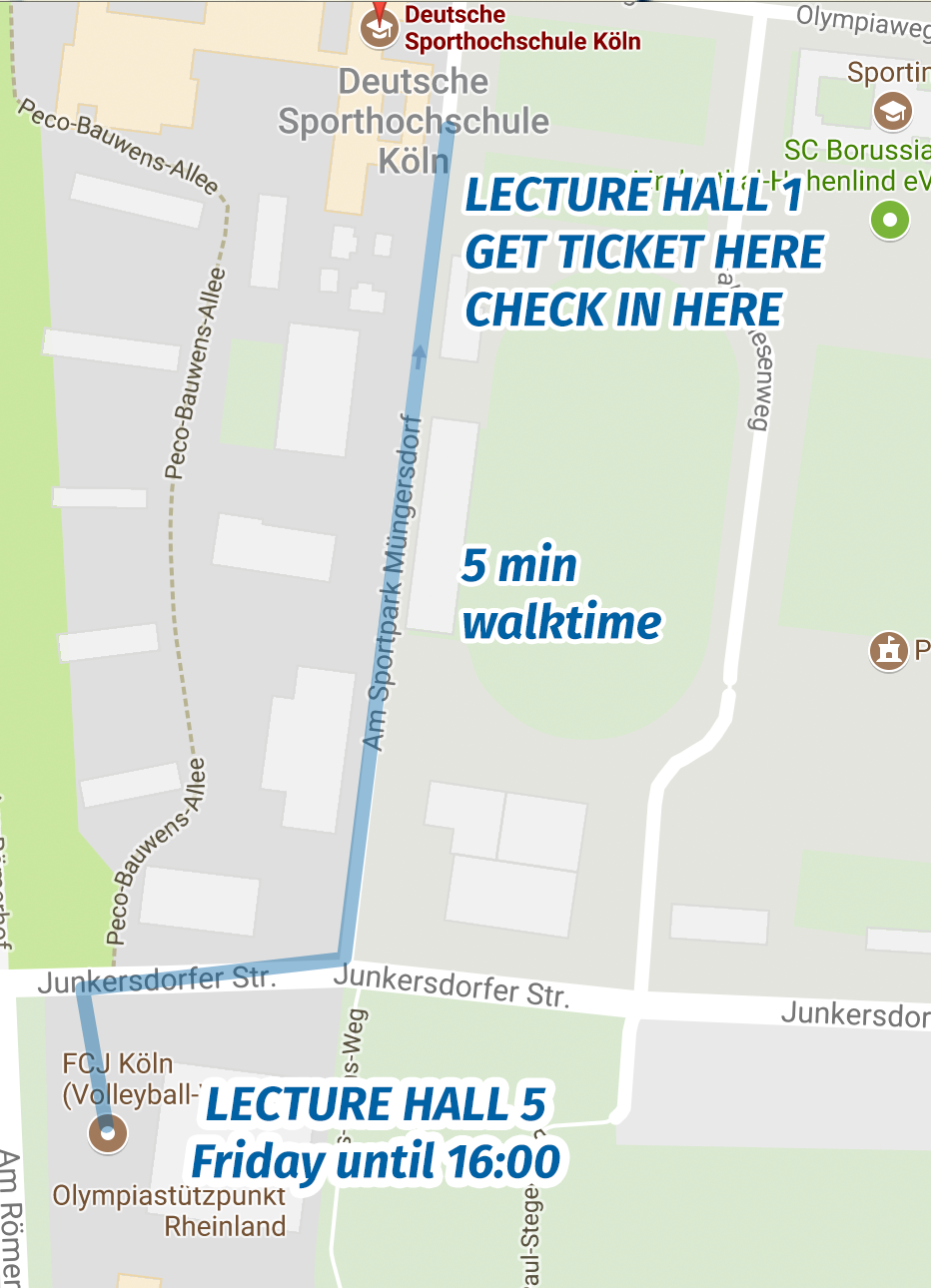 Friday, 22nd September 2017


Christian Couppé
09:30 - 09:35
5´
Opening

Tim Gabbett
09:35 - 10:25
50´
A Best Practice Approach to Monitoring Training Load / Room: Lecture hall 5
10:25 - 11:10
45´
Coffee break / Room: Foyer

Michael Skovdal Rathleff
11:10 - 12:00
50´
Managing Patellofemoral Pain: Is it time for a rethink? / Room: Lecture hall 5

Nina Gras
12:00 - 13:30
90´
Workshop: "Objectivity in Functional Screening – the TEMPLO® BASES solution (Body Assessment and Specific Efficiency Screening)". This workshop teaches the BASES concept and workflow of the TEMPLO® Functional Screening Software. / Room: Lecture hall 5
13:30 - 14:50
80´
Lunch / Room: Foyer

Eric Hegedus
14:50 - 15:40
50´
The complexity of recovery and return to sport / Room: Lecture hall 5
15:40 - 15:55
15´
Presentation of Gymwatch Room: Lecture hall 5

Christian Couppé
15:55 - 16:00
5´
Transition
16:00 - 16:35
35´
Coffee break / Room: Foyer

Tim Gabbett
16:30 - 17:30
60´
Training Smarter and Harder / Room: Lecture hall 1

Karin Silbernagel
17:30 - 17:35
5´
Transition
17:35 - 17:45
10´
Mini-oral by Ahmet ŞİRİNKAN / Room: Lecture hall 1

Tim Gabbett
17:45 - 18:45
60´
Building Robust Athletes / Room: Lecture hall 1

Saturday, 23rd September 2017


Roland Becker
08:30 - 09:20
50´
Time for a paradigm change in meniscal repair: save the meniscus! / Room: Lecture hall 1
09:20 - 09:35
15´
Presentation of Strobel & Walter - Yogaboard / Room: Lecture hall 1

Per Aagaard
09:35 - 10:35
60´
The influence of eccentric strength training on the enhancement of maximal muscle strength, explosive force and muscular power - Consequences for Athletic Performance / Room: Lecture hall 1
10:35 - 11:05
30´
Coffee break / Room: Foyer

Eric Hegedus
11:05 - 11:55
50´
Predicting injury with performance tests: A simple solution in a complex environment? / Room: Lecture hall 1
11:55 - 12:55
60´
Workshop by Redcord about Neurac: A treatment method that aims to restore functional and pain-free movement patterns through high levels of neuromuscular stimulation. / Room: Lecture hall 1

Karin Silbernagel
12:55 - 13:00
5´
Transition
13:00 - 14:10
70´
Lunch / Room: Foyer

Kevin Tipton
14:10 - 15:00
50´
Updates in nutrition research / Room: Lecture hall 1

Karin Silbernagel
15:00 - 15:50
50´
Return to sports in athletes with tendinopathy / Room: Lecture hall 1
15:50 - 16:30
40´
Coffee break / Poster presentation / Room: Foyer

Christian Couppé
16:30 - 17:20
50´
Latest updates in Tendinopathy treatments / Room: Lecture hall 1

Kevin Tipton
17:30 - 18:00
30´
Meet the expert: Participants are allowed for asking questions about the specialized areas of Kevin Tipton. / Room: Lecture hall 1

Eric Hegedus
18:00 - 18:30
30´
Meet the expert: Participants are allowed for asking questions about the specialized areas of Eric Hegedus. / Room: Lecture hall 1

Sunday, 24th September 2017


Per Aagaard
08:30 - 09:30
60´
Hyperactivation of skeletal muscle stem cells with blood flow restricted resistance exercise - implications for muscle hypertrophy in sports and in the clinical setting / Room: Lecture hall 1

Christian Kopkow
09:30 - 10:00
30´
Core Outcome Sets – why outcome research matters! / Room: Lecture hall 1
10:00 - 10:30
30´
Coffee break / Room: Foyer

Per Aagaard
10:30 - 11:30
60´
Effects of Resistance Training on Neuromuscular Function - Implications for athletes and non-athletes, elderly and patients / Room: Lecture hall 1

Christian Couppé
11:30 - 12:20
50´
Training modalities for tendons: What matters? / Room: Lecture hall 1
12:20 - 13:20
60´
Lunch / Room: Foyer

Evangelos Pappas
13:20 - 14:10
50´
Etiology and prevention of ACL injuries / Room: Lecture hall 1
14:10 - 14:40
30´
Mini-orals by Sertaç ERCİŞ, Nurcan DEMİREL, A.Uğur NALCIOĞLU

Christian Kopkow
14:40 - 15:10
30´
Scapula dyskinesis – relevant or overrated in overhead athletes? / Room: Lecture hall 1 - Coffee break
15:10 - 15:40
30´
Oral presentation by Rita Mansour: How to apply sports nutrition theories into practice while working with elite athletes (individuals or teams). / Room: Lecture hall 1

Michael Skovdal Rathleff
16:20 - 17:10
50´
Plantar fasciitis: Key facts and intervention strategies in prevention and rehabilitation / Room: Lecture hall 1
17:10 - 17:20
10´
Break

Evangelos Pappas
17:20 - 17:50
30´
Meet the expert: Participants are allowed for asking questions about the specialized areas of Evangelos Pappas. / Room: Lecture hall 1

Christian Kopkow
17:50 - 18:20
30´
Meet the expert: Participants are allowed for asking questions about the specialized areas of Christian Kopkow. / Room: Lecture hall 1

Evangelos Pappas
18:20 - 18:30
10´
Closing / Room: Lecture hall 1